SwitchXS™

Scanning Keyboard and Mouse Emulation for Mac OS X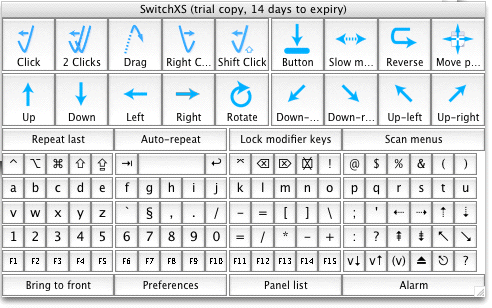 Assistiveware has discontinued SwitchXS
SwitchXS™ provides virtually complete access to Mac OS X and all standard Mac applications for people who can only use one or more switches. By using scanning, the software offers full mouse and keyboard emulation. With each click on the switch the user selects an action. What differentiates SwitchXS from switch adapted software is that with SwitchXS the user has full access to the computer and can, with a single switch or with two-switch-step-scanning, surf the web, edit videos in iMovie, compose emails in Mail or write, for example, an essay in Word.
Included with SwitchXS are a number of predefined scanning panels that the user can choose from to move the mouse pointer, position the cursor, click, and type into all standard Mac applications. Panel editor, LayoutKitchen , is included so users can also create their own scan panels.
SwitchXS allows the user advanced control over features such as audio-cueing, speech-cueing, key repeat, scanning speed and cycling, mouse speed and movement, and SmartTransparency™ which makes the scanning panel partially or fully transparent when no scan is taking place to enjoy optimum use of screen real-estate.
Swifty USB Switch Interface is an excellent companion product for SwitchXS users
Feature List
Full mouse and keyboard emulation.
Works seamlessly with all standard Mac OS X applications and with multiple monitor setups.
Supports multiple switches with user configurable scanning methods, including inverse and step scanning.
Provides auto-stepping and auto-selecting single switch scanning methods.
Provides automatic menu scanning.
Includes SmartTransparency™ technology, which makes the scan window become transparent when not used and makes it automatically reappear when the switch is pressed.
Handles command-key combinations, dead-keys, and modifier key - click combinations.
Provides audio-cueing and speech-cueing.
Works with US and international keyboard layouts.
Offers multiple interactively resizable scan panels.
Offers customizable scan speed and cycling, menu scan speed, mouse speed and reduced mouse speed to tune to each users preference.
Works with a wide range of input devices.
Includes LayoutKitchen ,which enables users to design their own custom scan panels with many advanced features including colored buttons and text as well as images.
SwitchXS users can have access to word prediction through KeyStrokes. This great combination can dramatically speed up typing while reducing effort.
Requirements for SwitchXS
1. SwitchXS 2.5.4 (Mac OS X 10.7 and later)
2. SwitchXS 2.5.1 (Mac OS X 10.4 – 10.6)
Additional Resources
Download SwitchXS Trial
Download SwitchXS User Guide
Buy SwitchXS
---

Origin Instruments Corporation
854 Greenview Drive
Grand Prairie, Texas, 75050 USA
Email:
support@orin.com
Voice: 972-606-8740
FAX: 972-606-8741
© Copyright 2016 Origin Instruments Corporation

HeadMouse is a registered trademark of Origin Instruments Corporation. PageBot, Tapio, Swifty, Beam, Orby, Breeze, SofType, Dragger, and AirVoter are trademarks of Origin Instruments Corporation. All other trademarks are the property of their respective owners.




Quick Links:
Shop Online
News and Events
About Us