AirVoterTM
Sanitary Sip-Puff Switch for Voting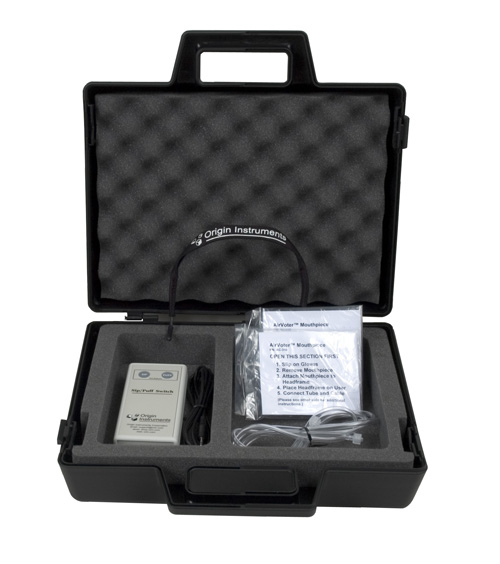 AirVoter™ is the leading sip-puff voting interface for individuals with motor disabilities and limited dexterity. The padded, head-referenced design affords dignity, comfort, and convenience. AirVoter's disposable mouthpiece includes an in-line aseptic filter to enable hygienic, worry-free voting by a succession of voters. AirVoter is packaged in a compact instrument case for storage and transport. In short, AirVoter is a simple and cost-effective access solution in support of HAVA compliance.
Compatible with accessible voting machines
Comfortable and adjustable headset
Includes two (2) sealed mouthpiece assemblies, each with gloves and instruction sheet
6-foot air tube with quick-connects
Compact Sip-Puff switchbox with integrated "sip" and "puff" push-buttons for testing purposes
Single cable connection to voting machine
No AC plug and no batteries
Optional Swifty™ USB Switch Interface
Packaged in a portable case with foam cushioning
Each disposable AirVoter mouthpiece is enclosed in a sealed package that includes a pair of latex-free gloves and an instruction sheet. The mouthpiece filter eliminates sanitary concerns on behalf of both the voter and the precinct worker while retaining sip-puff convenience, accuracy, and reliability.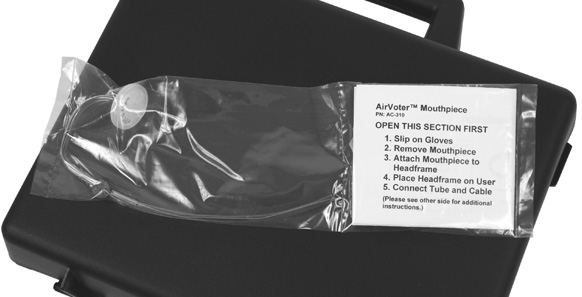 The AirVoter mouthpiece installs in seconds using a snap-fit fastener to the padded headset. With simple sips or puffs on the mouthpiece in time with visible or headphone-audible cues, the voter obtains private and secure control of the voting experience. After a voter has completed a ballot, the mouthpiece is discarded and AirVoter is immediately available for the next voter.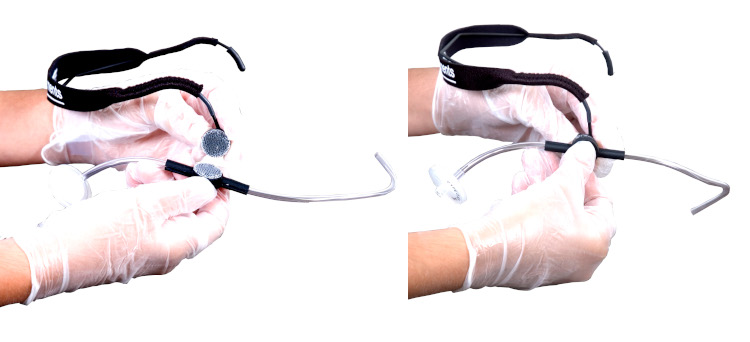 The AirVoter Mouthpiece is connected by pneumatic tube to a small switch enclosure that converts sips and puffs into electrical signals. This enclosure then connects to the voting machine through a single stereo cable or an optional USB switch interface. AirVoter's padded headset is easily adjusted to the voter's head by slipping over the ears and behind the neck.

For accessible voting machines that require a USB connection for switches, the optional Swifty™ USB interface provides a convenient bridge between AirVoter and the voting machine. Swifty is a USB dongle that accepts AirVoter's 3.5 mm stereo plug. The optional Swifty is powered by the USB port on the voting machine and does not require external power.
AirVoter's instrument case stores all components in a compact package. The case is similar to a small briefcase, complete with handle and snap closures. This packaging makes AirVoter the ideal companion for mobile voting machines and van-side voter needs.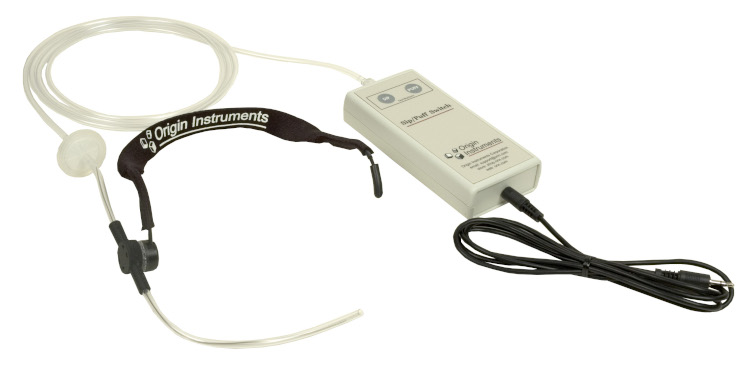 Additional Resources
Download Sip/Puff Documentation
Click to buy AirVoter
---

Origin Instruments Corporation
854 Greenview Drive
Grand Prairie, Texas, 75050 USA
Email:
[email protected]
Voice: 972-606-8740
FAX: 972-606-8741
© Copyright 2022 Origin Instruments Corporation

HeadMouse is a registered trademark of Origin Instruments Corporation. PageBot, Swifty, Beam, Orby, Breeze, SofType, Dragger, and AirVoter are trademarks of Origin Instruments Corporation. All other trademarks are the property of their respective owners.




Quick Links:
Shop Online
News and Events
About Us