LayoutKitchen™

Editor for KeyStrokes, SwitchXS and Proloquo on Mac OS X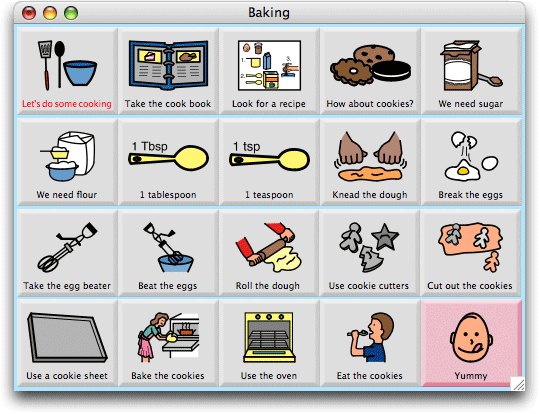 LayoutKitchen is an editor for SwitchXS™ scan panels, KeyStrokes® keyboards and Proloquo® speech panels. SwitchXS users can use LayoutKitchen to create their own scan panels (sometimes also referred to as scan keyboards) with just those keys, controls and functions they need, thereby greatly enhancing the power and versatility of SwitchXS. KeyStrokes users can use LayoutKitchen to design custom keyboards with images, colors and fonts to with a variety of keys and functions. Proloquo users can use LayoutKitchen to create their own speech panels for easy access of commonly used phrases or, when images are used on the buttons, to build communication panels for people who cannot read or write.
LayoutKitchen provides many advanced features to create highly customized panels with colored background, labels and buttons, with all kinds of images and with a variety of powerful functions. Yet, LayoutKitchen is easy to use.
Beginners can start by reusing buttons from existing panels and create more complex panels as they become comfortable with LayoutKitchen. To accommodate a variety of users, LayoutKitchen provides both mouse-based (drag and drop) and keyboard-based interfaces (keyboard shortcuts) for many actions and also includes functions making it easier for switch users to design their own panels with limited mouse use.
A great companion to LayoutKitchen is PCS for LayoutKitchen, which you can purchase separately. PCS for LayoutKitchen contains a collection of over 8000 Picture Communication Symbols™ from Mayer-Johnson that can be used with LayoutKitchen to design speech panels for Proloquo as well as scanning panels for SwitchXS and keyboards for KeyStrokes. These industry-standard picture symbols are in color and fully-resizable.
NOTE: LayoutKitchen comes bundled with: KeyStrokes, SwitchXS and Proloquo.
Feature List
Layout editor for KeyStrokes, SwitchXS and Proloquo
Supports coloring of panel background, button labels and buttons
Supports full-color images of any size on buttons in many graphic formats (including PNG, TIFF, JPEG, PSD, PDF)
Adjustable text font, size and style per button
Provides drag and drop editing of buttons, colors and images
Includes advanced functions to organize and arrange buttons (Enhanced in LayoutKitchen 2.0)
Allows a wide range of functions to be assigned to buttons, from speech to text to AppleScripts and keyboard macros
Includes a quick-access image browser, that is searchable and includes over 600 images and a quick-access button browser
Works with the over 8000 Picture Communication Symbols™ from Mayer-Johnson, available for separate purchase as PCS for LayoutKitchen
Requirements for LayoutKitchen 2.1.4
Mac OS X 10.4 and later
Additional Resources
Download LayoutKitchen Trial
Download LayoutKitchen User Guide
Purchase Information
LayoutKitchen comes bundled with: KeyStrokes, SwitchXS and Proloquo
Related Products

On-screen keyboard
(Mac OS)

Windows On-screen keyboard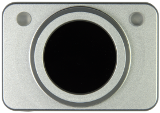 Wireless head-tracking

Sip and puff switch solution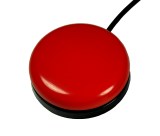 Orby Switch
---

Origin Instruments Corporation
854 Greenview Drive
Grand Prairie, Texas, 75050 USA
Email:
[email protected]
Voice: 972-606-8740
FAX: 972-606-8741
© Copyright 2017 Origin Instruments Corporation

HeadMouse is a registered trademark of Origin Instruments Corporation. PageBot, Swifty, Beam, Orby, Breeze, SofType, Dragger, and AirVoter are trademarks of Origin Instruments Corporation. All other trademarks are the property of their respective owners.




Quick Links:
Shop Online
News and Events
About Us