VisioVoice™

Low Vision Software for Mac OS X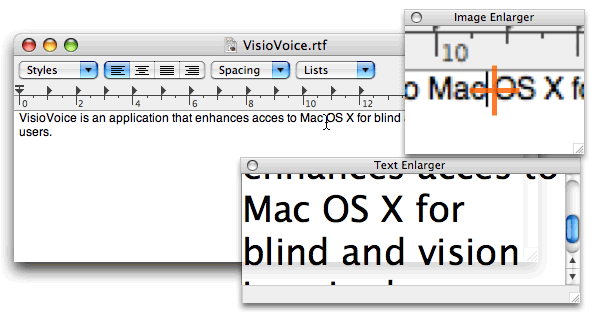 VisioVoice™ is a multilingual application that enhances access to Mac OS X for vision impaired users. The software provides many speech related features such as an advanced document and selection reader that can read Text, Word, PDF, RTF and web content. With the extended navigation panel you can easily navigate through the text. VisioVoice can also convert text to audio files or to iTunes tracks, ready for your iPad, iPhone or iPod touch.
VisioVoice includes an image and text enlarger that make it easier to see what is on the screen and offers several large, customizable cursors that enhance access to the Mac for vision impaired users.
Five (5) Infovox iVox™ voice credits are bundled with each VisioVoice license. Additional Infovox iVox voice credits can be purchased to acquire more voices, and add additional computers.
Features
Advanced document and selection reader with navigation functions for any application
Highlight spoken words or sentences as it is read
Converts text to audio files and to iTunes tracks ready for play on iPad, iPhone or iPod touch devices
Large, customizable cross-hair and target cursors that make using the Mac much easier for vision impaired users
Screen enlargement – Image Zoom and Text Zoom
Talking interface that talks as the user navigates across the screen using the mouse or full keyboard access
Speaks as the user types in virtually any application
System-wide keyboard shortcuts for easy access to core functionality
Includes five (5) Infovox iVox voice credits to redeem for individual, natural-sounding Infovox iVox voices available in many languages
Requirements for VisioVoice
VisioVoice 1.2.2 for Mac OS 10.6 and later
VisioVoice 1.2 for Mac OS 10.4 and 10.5
Additional Resources
Download VisioVoice Trial
Download VisioVoice User Guide
Buy VisioVoice (Includes 5 Infovox iVox voice credits)
Buy Infovox iVox Voice Credits
Infovox iVox Voice Credits
---

Origin Instruments Corporation
854 Greenview Drive
Grand Prairie, Texas, 75050 USA
Email:
support@orin.com
Voice: 972-606-8740
FAX: 972-606-8741
© Copyright 2014 Origin Instruments Corporation

HeadMouse is a registered trademark of Origin Instruments Corporation. PageBot, Swifty, Beam, Orby, Breeze, SofType, Dragger, and AirVoter are trademarks of Origin Instruments Corporation. All other trademarks are the property of their respective owners.




Quick Links:
Shop Online
News and Events
About Us