Infovox iVox 4

Mac OS X Voices in 31 Languages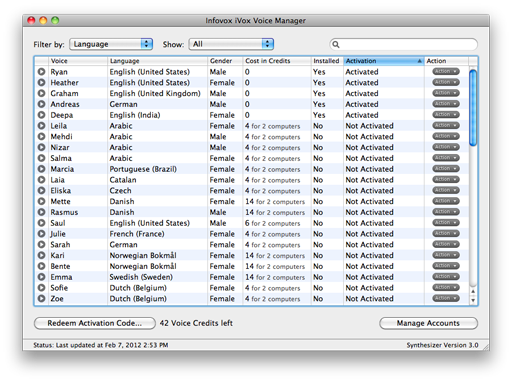 Infovox iVox™ provides system-wide, natural-sounding, clear and pleasant voices to Mac OS X for blind and vision impaired users, for individuals who need audible feedback or reading support, for language learning and for people who prefer listening to their computer.
Infovox iVox offers voices in 31 languages. The naturally-sounding voices can be used in any Mac OS X application that uses speech, such as Apple's VoiceOver screen reader, Safari, Adobe's Acrobat Reader, TextEdit and Preview. The software is also included with Proloquo.
New with Infovox iVox 4
31 new voices (including voice variations)
3 new languages (Japanese, Chinese and Korean)
Emotive voice variants for a selection of voices (Happy/Sad/Whispering/Shouting)
4 specialty voices (Bad Guy, Old Man, Little Creature, French Robot
An American English teenager voice (Scott)
All voices have enhanced quality
Voice Credits
With the introduction of Infovox iVox 3, you can purchase individual voices à la carte using "voice credits". Beginning with infovox iVox 4, all voices require only one voice credit per computer. Purchase enough voice credits for the voices you need, and use the provided "Voice Credit Activation Code" to add those voice credits to your Infovox iVox Voice Manager. The credits are added to the Infovox iVox Voice Manager application by clicking on the Redeem Activation Code button and entering the Activation Code. The voice credits in your Activation Account are then used to acquire individual voices of your choice.
Credits are sold individually for $14.99/ea and the following quantity discounts apply per purchase:
5 or more = 20% discount
15 or more = 30% discount
30 or more = 40% discount
125 or more = 50% discount
Existing Infovox iVox 3 customers: Existing iVox 3 customers can upgrade to iVox 4 for free.
Existing Infovox iVox 2 Customers: Existing Infovox iVox 2 licenses can be used in Infovox iVox 3. When the Infovox iVox 3 Voice Manager starts the first time it will prompt to re-activate installed Infovox iVox 2 voice licenses to a designated Activation Account. Infovox iVox 2 language licenses previously purchased can be activated using the Infovox iVox 3 Activation Manager on up to two (2) computers. View Infovox iVox FAQ for upgrade guidance and instructions.
Voices
A complete list of available voices with samples are available at Infovox iVox 4 Voice Samples.
Trial License
You can download a full function version of Infovox iVox Voice Manager. Once installed, you can select to download for 30-day trial any of the available voices from within the Infovox iVox Voice Manager.
Requirements for Infovox iVox 4.2
Mac OS X 10.6 and later
Users with Mac OS X 10.4 or 10.5 can continue using Infovox iVox version 3.1.1, but cannot use the new iVox 4 voices. Mac OS X 10.5 or higher is required for Arabic, Czech, Greek, Polish, Russian and Turkish voices
Infovox iVox is developed by the Acapela Group, the European leader in speech technologies, and is distributed worldwide by AssistiveWare.
---

Origin Instruments Corporation
854 Greenview Drive
Grand Prairie, Texas, 75050 USA
Email:
support@orin.com
Voice: 972-606-8740
FAX: 972-606-8741
© Copyright 2016 Origin Instruments Corporation

HeadMouse is a registered trademark of Origin Instruments Corporation. PageBot, Swifty, Beam, Orby, Breeze, SofType, Dragger, and AirVoter are trademarks of Origin Instruments Corporation. All other trademarks are the property of their respective owners.




Quick Links:
Shop Online
News and Events
About Us