HeadMouse&reg Extreme
Wireless Head Controlled Mouse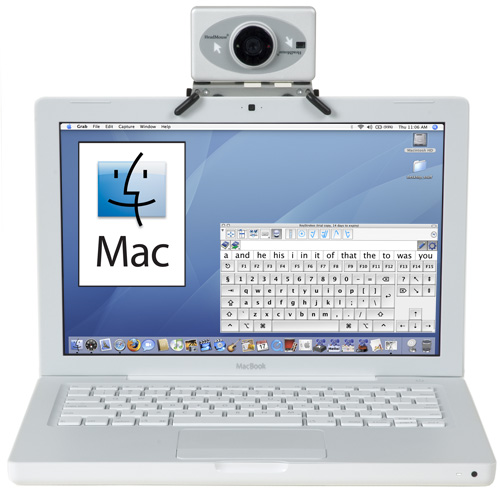 HeadMouse® Extreme replaces the standard computer mouse for people who cannot use or have limited use of their hands when controlling a computer or alternative and augmentative communication (AAC) device. The HeadMouse translates natural movements of a user's head into directly proportional movements of the computer mouse pointer, so as the user moves their head the mouse pointer on the screen also moves. The HeadMouse has a wireless optical sensor which tracks a tiny disposable target that is worn by the user in a convenient location on their forehead, glasses, hat, etc. It works just like a computer mouse, with the mouse pointer being moved by the motion of the user's head.
The HeadMouse will track the user's head with the user located in any comfortable viewing position relative to the computer display. Resolution of the HeadMouse is precise to allow a user to control the mouse pointer down to the minimum, pixel perfect, resolution of the computer display. This precision allows a user to perform such tasks as drawing, gaming, graphics work and Computer Aided Design (CAD).
HeadMouse Extreme connects to the computer or augmentative communication device through a USB port and operates using standard mouse drivers. No special software is required. The HeadMouse is powered by the host device, over the USB connection. The integrated electronic tilt sensor automatically adapts to even the most unusual mounting requirements.
Selections and mouse button operations can be performed using a variety of adaptive switches, including Origin Instruments Sip/Puff Switch, Orby™ Switch, and mouse button software, such as Dragger™. Using Dragger, mouse clicks are performed by positioning the pointer and dwelling for a selectable period of time. HeadMouse Extreme also comes with a built-in infrared receiver that provides optional wireless connections for adaptive switches. Beam™ is available for wireless transfer of adaptive switch inputs from a wheelchair to the integrated receiver.
When used with an on-screen keyboard such as SofType™ or KeyStrokes™, HeadMouse provides head-controlled access to all of the full range of functions for both keyboard and mouse, and to thousands of standard personal computer applications including Internet access.
Key User Benefits and Value Points
The HeadMouse Extreme provides universal, reliable and worry-free access to users around the world who frequently express their appreciation for features that bring them personal benefit, including:
No headaches and uncertainties associated with operating system dependencies and processing delays (So Windows 8 and Mac OS X 10.8 …no problem!)
Smooth, precise, pixel perfect control of the mouse pointer
Uninterrupted operations even in varied lighting conditions
Support for a variety of platforms including computers, AAC systems and other devices that support a USB mouse
No extra power adapters to keep up with or concern for keeping components charged since the HeadMouse receives power through the USB connection
Simple, hassle-free installation with one step connect of the HeadMouse Extreme to a USB port
Connectivity support for both wired and wireless adaptive switches with integrated switch interface
Access for Alternative and Augmentative Communication Devices
HeadMouse Extreme provides reliable head-controlled access to augmentative communication devices that provide speech and environmental control. HeadMouse Extreme integrates conveniently with systems from a variety of suppliers, DynaVox Systems, Jabbla, Prentke Romich, Tobii, Words+ and others.
If an augmentative communication device can be accessed with a standard mouse then it should be accessible with a HeadMouse.

Mounting Options
A variety of optional HeadMouse Extreme mounts are available for notebook computers, flat panel displays and Alternative and Augmentative Communication (AAC) devices. If a mount for your needs is not currently shown, please inform us of your requirements.
HeadMouse Extreme Package Includes:
HeadMouse Extreme
Mounting Bracket for Notebook Computers
Dual-lock mounting kit (used to attach HeadMouse Extreme to a monitor)
Right-angle 6-foot and straight 3-foot USB cables
50 target dots
2-year limited warranty
Compatibility
The HeadMouse Extreme emulates a USB computer mouse so no special software is required for operations.
Promotional Bundles
Purchase combined products for a complete solution and save money, too!
Extreme Windows Bundle – HeadMouse Extreme and SofType on-screen keyboard
Extreme Macintosh Bundle – HeadMouse Extreme and KeyStrokes on-screen keyboard
Extreme Deluxe Windows Bundle – HeadMouse Extreme, SofType and Sip/Puff Switch with Headset
Extreme Deluxe Macintosh Bundle – HeadMouse Extreme, KeyStrokes and Sip/Puff Switch with Headset
Resources, Accessories and Replacement Items
Download HeadMouse Extreme User Guide
Buy HeadMouse Extreme
Buy HeadMouse Extreme Mounting Bracket for DynaVox Maestro
Buy HeadMouse Extreme Mounting Bracket for DynaVox V and Vmax
Buy HeadMouse Extreme Mounting Bracket for Notebook Computers (included in package)
Buy Targets for HeadMouse Extreme (50 count)
Buy Targets for HeadMouse Extreme (200 count)
---

Origin Instruments Corporation
854 Greenview Drive
Grand Prairie, Texas, 75050 USA
Email:
support@orin.com
Voice: 972-606-8740
FAX: 972-606-8741
© Copyright 2015 Origin Instruments Corporation

HeadMouse is a registered trademark of Origin Instruments Corporation. PageBot, Swifty, Beam, Orby, Breeze, SofType, Dragger, and AirVoter are trademarks of Origin Instruments Corporation. All other trademarks are the property of their respective owners.




Quick Links:
Shop Online
News and Events
About Us