Assistive Technology Software
(Mac OS X)
Universal Access, Communications and Learning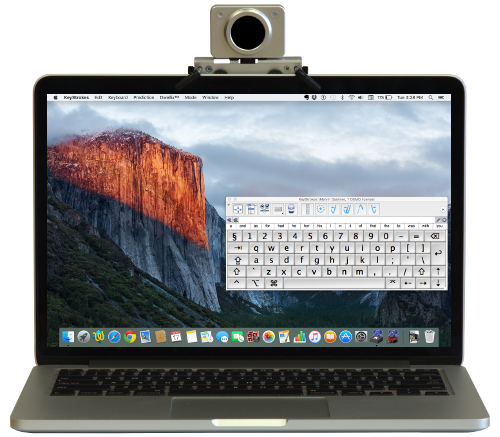 Universal Access
KeyStrokes™
KeyStrokes is a full-function, advanced on-screen keyboard providing people with physical impairments as well as graphic tablet and touch screen users full access to the computer. KeyStrokes enables a person using a mouse, trackball, head pointer or other mouse emulator such as the HeadMouse® Nano, to type characters into any standard Mac OS X application. For those who can position the pointer, but not click the mouse buttons, the integrated Dwellix™ system-wide dwell-based utility allows mouse button clicks to be entered by simply holding the cursor motionless for an adjustable period of time.
Click to learn more about KeyStrokes – On-screen Keyboard (Mac OS)
SwitchXS™
SwitchXS provides virtually complete access to Mac OS X and all standard Mac applications for people who can only use one or more switches. By using scanning, the software offers full mouse and keyboard emulation. With each click on the switch the user selects an action. What differentiates SwitchXS from switch adapted software is that with SwitchXS the user has full access to the computer and can, with a single switch or with two-switch-step-scanning, surf the web, edit videos in iMovie, compose emails in Mail or write, for example, an essay in Word.
Click to learn more about SwitchXS – Scanning On-screen Keyboard and Mouse Emulation (Mac OS)
LayoutKitchen™
LayoutKitchen is an editor for SwitchXS™ scan panels,KeyStrokes® keyboards and Proloquo® speech panels. SwitchXS users can use LayoutKitchen to create their own scan panels (sometimes also referred to as scan keyboards) with just those keys, controls and functions they need, thereby greatly enhancing the power and versatility of SwitchXS. KeyStrokes users can use LayoutKitchen to design custom keyboards with images, colors and fonts with a variety of keys and functions. Proloquo users can use LayoutKitchen to create their own speech panels for easy access of commonly used phrases or, when images are used on the buttons, to build communication panels for people who cannot read or write.
Click to learn more about LayoutKitchen – Editor for SwitchXS, Proloquo and Keystrokes (Mac OS)
Infovox iVox™
Infovox iVox provides system-wide, natural-sounding, clear and pleasant voices to Mac OS X for blind and vision impaired users, for individuals who need audible feedback or reading support, for language learning and for people who prefer listening to their computer.
The natural-sounding voices can be used in any Mac OS X application that uses speech, such as Apple's VoiceOver screen reader, Safari, Adobe's Acrobat Reader, TextEdit and Preview. InfoVox iVox is included with Proloquo and VisioVoice.
Click to learn more about Infovox iVox – Natural Sounding Voices in 31 Languages (Mac OS)
Communication
Proloquo™
Proloquo is a multilingual Augmentative and Alternative Communication (AAC) solution designed to assist people who cannot speak or have difficulty speaking. To aid those who benefit from combined visual and auditory reinforcement, Proloquo provides speech feedback while typing and the ability to speak what is below the cursor so the user can both see and hear the words.
Click to learn more about Proloquo – Multilingual Communication Solution (Mac OS)
Additional Resources
Download software for trial
---

Origin Instruments Corporation
854 Greenview Drive
Grand Prairie, Texas, 75050 USA
Email:
support@orin.com
Voice: 972-606-8740
FAX: 972-606-8741
© Copyright 2016 Origin Instruments Corporation

HeadMouse is a registered trademark of Origin Instruments Corporation. PageBot, Swifty, Beam, Orby, Breeze, SofType, Dragger, and AirVoter are trademarks of Origin Instruments Corporation. All other trademarks are the property of their respective owners.




Quick Links:
Shop Online
News and Events
About Us