SwiftyTM
USB Switch Interface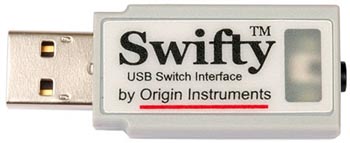 Teeny weeny size. Huge possibilities. Swifty is a speedy USB switch interface in an extremely compact design. Working with up to two wired switches, or three wirelessly through Beam™ this pint-sized powerhouse can output mouse clicks, joystick buttons or keyboard functions.
Extremely low latency
3.5-mm (1/8-inch ) stereo jack
Accepts mono or stereo plugs
Up to 3-Inputs with Beam™
Wireless input with Beam™
Mouse button, joystick button and keyboard emulation
Full speed USB device
USB powered
Weighs ½-ounce (14-grams)
2- by 0.8- by 0.5-inches (51- by 20- by 13-mm)
Works with Windows, Mac OS and Linux
Uses standard USB HID drivers
1-year limited warranty
Swifty accepts industry standard 3.5-mm, stereo or mono plugs for directly connecting up to two adaptive switches and Swifty is powered from the USB host so no external power is required. Swifty utilizes standard USB Human Interface Device (HID) drivers and works with Windows, Macintosh and Linux computers and many AAC devices.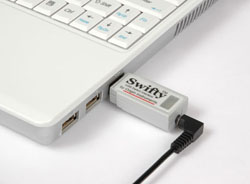 Swifty includes an integrated wireless receiver for communicating with Beam™. Users can connect their adaptive switches to Beam for wireless communications to Swifty, so they don't have to stay tethered to the computer. Beam also has an additional input for supporting up to three adaptive switches.
Swifty's integrated mode switch selects mouse, joystick, or keyboard functions as shown below.
| | |
| --- | --- |
| USB Device | Interface Action |
| Mouse | Left, Right, Middle* |
| Joystick | Btn1, Btn2, Btn3* |
| Keyboard | Enter, Space, Tab* |
| Keyboard | 1, 2, 3* |
* Up to two switches can be directly connected to Swifty and up to three switches can be wirelessly interfaced with the optional Beam transmitter.
Buy Swifty
Optional Cable Kit
The Cable Kit is a popular accessory for Swifty and HeadMouse Extreme users. The Cable Kit includes:
Stereo-to-mono plug adapter
2.5-foot (760-mm) USB extender cable
1-foot (300-mm) 3.5-mm switch extender cable
The stereo-to-mono adapter enables two single switches with mono plugs to be connected to Swifty or the HeadMouse Extreme. The cable kit may also be used with Beam™ or other switch adapted devices.
Buy Cable Kit
Swifty and Beam Bundle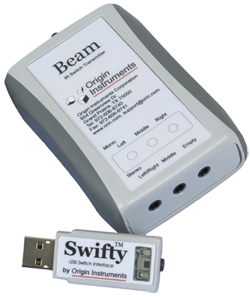 Tired of wires? Beam can team with Swifty, allowing users to remotely activate mouse clicks, joystick buttons or keyboard functions. Don't be tied down - let freedom reign.
Buy Swifty Beam Bundle
Swifty and Orby Bundles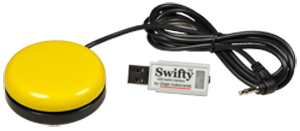 Need an attractive and durable switch? Teaming Orby with Swifty enables users to generate mouse clicks, joystick buttons or keyboard functions with simple taps on Orby.
Buy Swifty/Orby Bundle - Single Switch
(Orby is available in four fun colors)
Additional Resources
Download Swifty User Guide
Buy Swifty on our online store
---

Origin Instruments Corporation
854 Greenview Drive
Grand Prairie, Texas, 75050 USA
Email:
support@orin.com
Voice: 972-606-8740
FAX: 972-606-8741
© Copyright 2013 Origin Instruments Corporation

HeadMouse is a registered trademark of Origin Instruments Corporation. PageBot, Swifty, Beam, Orby, Breeze, SofType, Dragger, and AirVoter are trademarks of Origin Instruments Corporation. All other trademarks are the property of their respective owners.




Quick Links:
Shop Online
News and Events
About Us