Proloquo™

Multilingual Communication Solution for Mac OS X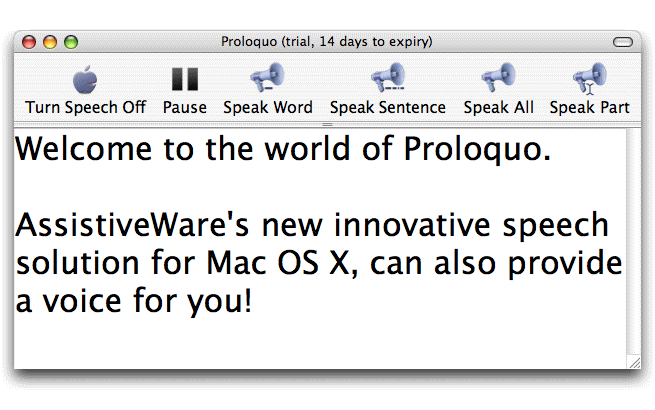 Assistiveware has designated Proloquo a Legacy Product
Legacy products are no longer under active development. This means there is no guarantee they will continue to work on future versions of OS X. Download and test the demo before purchasing the product to see if it works as you expect on your computer. These products are being offered as a courtesy to users who find they uniquely meet their needs. Sales will eventually be discontinued.
Proloquo™ is a multilingual Augmentative and Alternative Communication (AAC) solution designed to assist people who have difficulty speaking or cannot speak at all. To aid those who benefit from combined visual and auditory reinforcement, Proloquo provides speech feedback while typing and the ability to speak what is below the cursor so the user can both see and hear the words.
Proloquo can also act as a talking word processor and advanced speech engine for KeyStrokes™ on-screen keyboard and SwitchXS™ users. 
Proloquo includes LayoutKitchen™, a powerful layout editor with which users can design their own speech panels with colorable and resizable buttons containing text and/or images in a variety of formats.
Each Proloquo license includes five (5) Infovox iVox™ voice credits that can be redeemed for individual Infovox iVox voices in any language. Additional Infovox iVox voice credits can be purchased separately to acquire even more voices and to add additional computers.
Proloquo works with any hard keyboard, on-screen keyboard, mouse or mouse emulator, including the HeadMouse® Nano.
IMPORTANT NOTE: Proloquo is for Mac OS X and is different from Proloquo2Go, which is for iPhone, iPad and iPod touch.
Feature List
Functions as an Alternative and Augmentative Communication solution for Mac OS X
Speaks text in any application and speaks as the user types
Custom words and phrases can be spoken with a simple mouse click or keystroke
Includes LayoutKitchen™ – a powerful editor to design individual keyboards and textual speech panels for commonly used words and phrases
Automatically synchronizes typed text and speech functions in applications such as TextEdit and Nisus Writer Express as the user moves from window to window effectively turning these applications into talking word processors
Provides control over speech rate, pitch and exceptions
Provides very large icons and resizable toolbars
Converts text to audio files and to iTunes tracks ready for play on iPad, iPhone or iPod touch devices
Includes five (5) Infovox iVox voice credits to redeem for individual, natural-sounding Infovox iVox voices available in many languages
Requirements for Proloquo 2.0
1. Mac OS X 10.4 and later
2. Mac OS X 10.5 and later for Arabic, Turkish, Czech, Greek, Russian and Polish voices
Additional Resources
Download Proloquo Trial
Download Proloquo User Guide
Buy Proloquo (includes 5 Infovox iVox voice credits)
Buy Infovox iVox Voice Credits
---

Origin Instruments Corporation
854 Greenview Drive
Grand Prairie, Texas, 75050 USA
Email:
support@orin.com
Voice: 972-606-8740
FAX: 972-606-8741
© Copyright 2016 Origin Instruments Corporation

HeadMouse is a registered trademark of Origin Instruments Corporation. PageBot, Swifty, Beam, Orby, Breeze, SofType, Dragger, and AirVoter are trademarks of Origin Instruments Corporation. All other trademarks are the property of their respective owners.




Quick Links:
Shop Online
News and Events
About Us