GhostReader™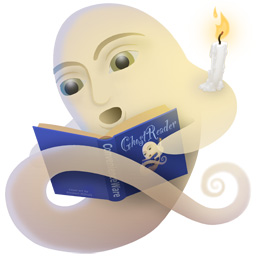 Document and Selection Reader for Mac OS
GhostReader™ is a document and selection reader often used by people with dyslexia, by students for language learning and by people who prefer to listen to text rather than read it. GhostReader can read Text, Word, HTML, PDF and RTF documents (plus in Leopard: DOCX and ODT documents) and selected text in almost any application.
For later playback, GhostReader can convert text to audio files and to iTunes tracks ready for play on iPad, iPhone or iPod touch devices.
GhostReader includes Infovox iVox voice credits that can be redeemed for individual Infovox iVox voices in any language. Additional Infovox iVox voice credits can be purchased separately to acquire even more voices and to add additional computers.
Key-features:
Listen to Text, Word, HTML, PDF and RTF documents (plus in Leopard: DOCX and ODT documents)
Create personal and educational podcasts by converting text to audio files
Convert text to iTunes tracks with the encoding of your choice: AAC, MP3, WAV, AIFF, Apple Lossless
Create individual bookmarkable audiobooks by exporting to iTunes tracks
Speak selected text in any application using the GhostReader tool palette or a keyboard shortcut
Simply point the cursor at text in Safari, Pages 2008, TextEdit, or Mail to listen to the paragraph below the cursor instead of reading
Utilize the pronunciation editor to modify the way a word is pronounced and to add new abbreviations
Includes Infovox iVox voice credits to redeem for individual, natural-sounding Infovox iVox voices available in many languages.
Localized in English, French, Italian and German
Requirements for GhostReader
1. Mac OS X 10.4 or later
2. Mac OS X 10.5 or later for Arabic, Turkish, Czech, Greek, Russian and Polish voices
Additional Resources
Download GhostReader Trial Version with Infovox iVox voices of choice
Download GhostReader User Guide
Buy GhostReader with 4 Infovox iVox Voice Credits
Buy GhostReader with 20 Infovox iVox Voice Credits
Buy GhostReader Household License with 10 Infovox iVox Voice Credits (max. 5 computers)
Buy Additional Infovox iVox Voice Credits
Purchase Information
Buy
GhostReader with 4 Infovox iVox Voice Credits
Buy
GhostReader with 20 Infovox iVox Voice Credits
Buy
GhostReader Household License with 10 Infovox iVox Voice Credits
Shop
our online store
Request
a quotation
Infovox iVox Voice Credits

Buy
Infovox iVox Voice Credits
Voice Samples
Hear
Infovox iVox voice samples for various languages
Related Products

Over 60 voices in 25 languages
(Mac OS)

Multilingual communication solution
(Mac OS)
Multilingual talking interface with zoom
(Mac OS)

On-screen keyboard
(Mac OS)

Scanning keyboard & mouse emulation
(Mac OS)